We are delighted to have you as a patient and we look forward to providing you with the highest quality of dental care.
Great Plains Dental provides the most advanced dental care so you always look and feel your best. From routine cleanings to corrective dentistry you'll find our experienced dental professionals and state-of-the-art techniques and technology offer you the healthy, beautiful smile you deserve.
Great Plains Dental provides free, no obligation consultations for cosmetic dental treatments, orthodontics and sleep dentistry.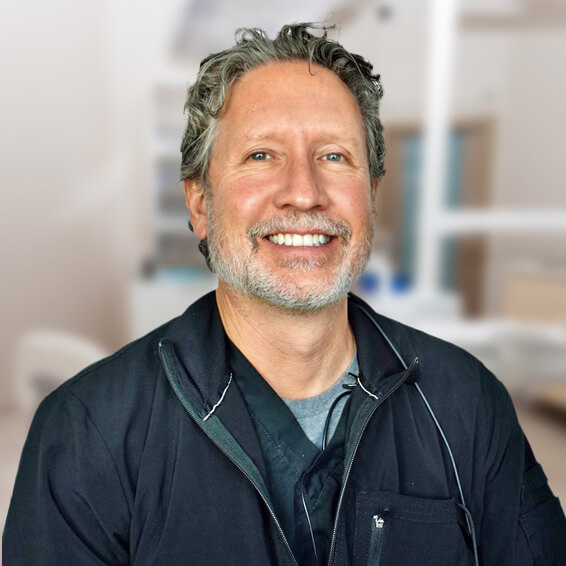 Dr. Kris McKinney graduated dental school with honors in 1996 from the University of Iowa. Prior to dental school, he completed his undergraduate degree from Morningside College in Sioux City, IA with a major in biology and a minor in psychology. Since graduating from the University of Iowa, Dr. McKinney has owned and operated his own dental practice in Sioux Falls, SD.
Dr. McKinney's dental practice includes general dentistry with special interest in orthodontics, cosmetic dentistry, and children's dentistry. He completed advanced training through the MidAmerican Orthodontic Society, the American Orthodontic Society and the Progressive Orthodontic Society. He is also a certified Invisalign doctor. Dr. McKinney ensures high quality of care for patients by continuing postgraduate courses on new techniques and procedures in both dentistry and orthodontics.
Dr. McKinney and his wife, Melissa, have lived in Sioux Falls for over 20 years with their three sons Gabe, Ethan, and Griffin. In his spare time, Dr. McKinney enjoys fitness activities and spending time with family.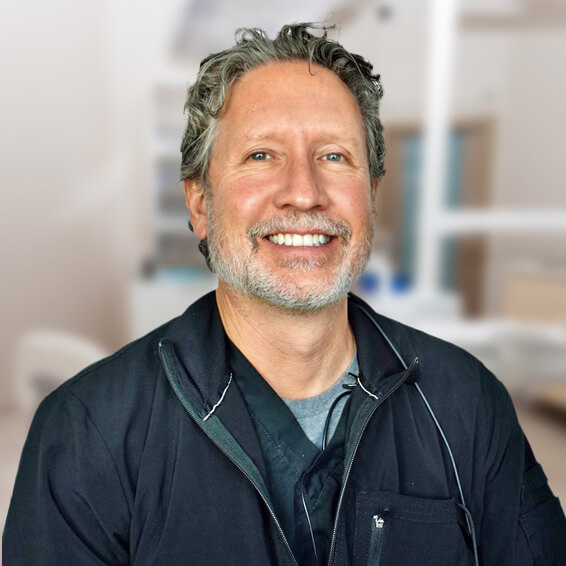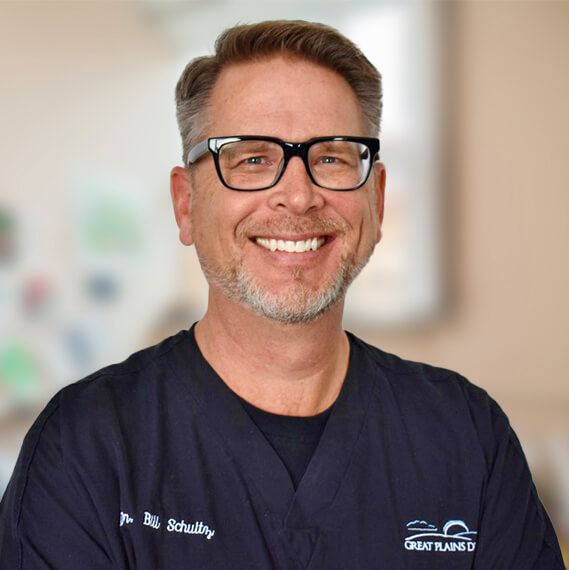 Dr Bill Schultz is originally from Huron, SD, graduating in 1987. He then attended the University of South Dakota where he received a B.S. in Biology in 1991. Dr. Schultz graduated with a Degree in Dentistry from the University of Minnesota in 1995. After graduation, Dr. Schultz completed a one year residency with the United States Army in Ft. Lewis, WA. For the next four years, he held the rank of Captain and served as a general dentist in the US Army, traveling Europe while stationed in Illesheim, Germany. His last duty station with the Army was Ft.Carson, CO.
Dr Schultz then transitioned from the Army to the United States Public Health Service in order to take an assignment to open a Dental Clinic for the City of Sioux Falls. Dr. Schultz held the position of Dental Director at the Sioux River Valley Community Health Center Dental Clinic (now Falls Community Health) for five years before joining the staff at Great Plains Dental in 2006. He is a member of the ADA, SD ADA, American Academy of Dental Sleep Medicine, and the Siouxland Implant Study Club.
Dr. Schultz provides general dentistry, cosmetic dentistry, implant restorations and has a special interest in treating patients who suffer from Migraines and/or Obstructive Sleep Apnea with Oral Appliance Therapy. He offers patients the newest techniques and procedures through continued postgraduate courses. His goal is to provide high quality dental care in a relaxed and gentle manner to all of his patients.
Dr. Schultz and his wife Angie moved to Sioux Falls in 2000. They have two children, Emma and Cooper. When Dr. Schultz is away from the office, he enjoys spending time with his family, pheasant and turkey hunting, golfing, reading, traveling. He is an avid Minnesota sports fan (especially the Vikings) and hopes that, in his lifetime, he will see the Vikings play in and actually win a Superbowl!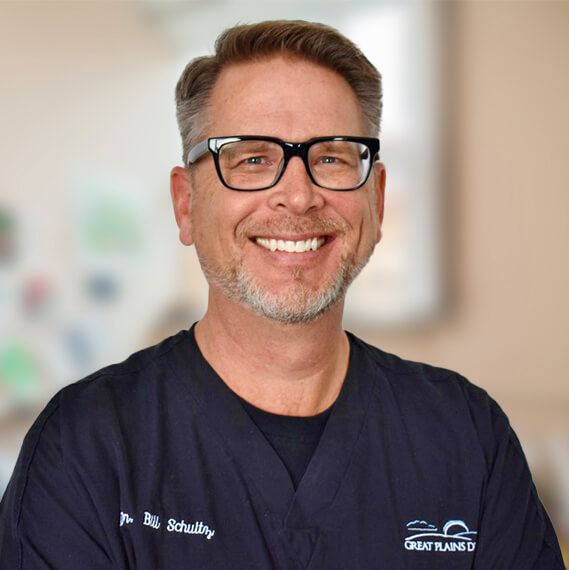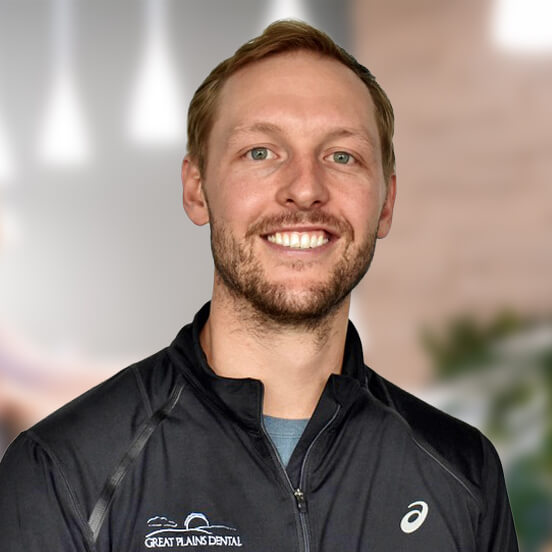 Dr. Brock Nelsen was born in Sioux Falls, SD, and graduated from Washington High School. He attended the University of Nebraska-Lincoln, where he received a B.S. in Biology with minors in Political Science and Mathematics. Dr. Nelsen graduated with a Doctorate of Dental Surgery from the University of Nebraska Medical Center.
Since graduation, Dr. Nelsen has been with Great Plains Dental and seeks to use technological innovation to define his practice. Using technological advances in dentistry, he employs a comprehensive, multidisciplinary approach to dentistry. Dr. Nelsen continually seeks additional dental education courses to refine his approach to dentistry and is a member of the American Dental Association (ADA), South Dakota ADA, and Siouxland Implant Study Club.
In his spare time, Dr. Nelsen can be found running on the Sioux Falls bike path training for his next marathon. He also enjoys hunting, fishing, golfing and water skiing.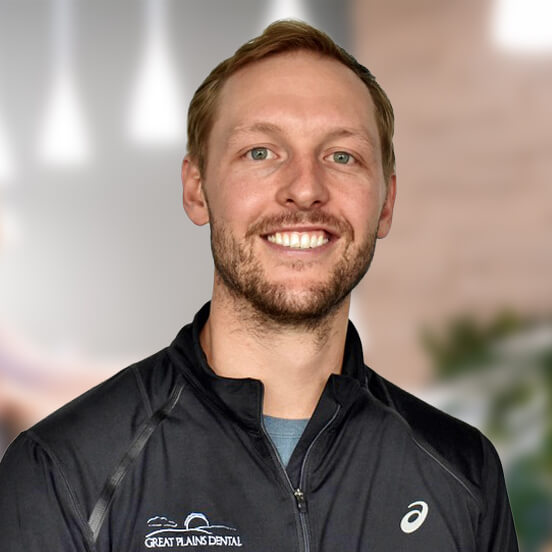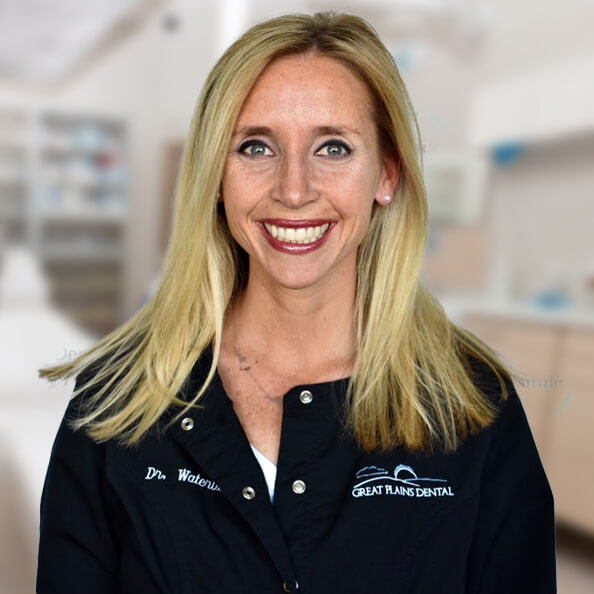 Jessica Waterbury, D.D.S.
Dr. Jessica Waterbury completed both undergraduate studies and dental school at the University of Iowa in Iowa City, IA. While in dental school, she devoted additional training to the field of public health, earning her a Dental Public Health certification. She also received awards for excellence in orthodontics
and research.
After graduating dental school in 2014, Jessica moved to Rochester, MN, where she has worked as a general dentist. In addition to her practice, she has been certified as an implant fellow for advanced implant training and has also been active with dental study clubs and volunteering.
Jessica and her husband Tom have a son, Wells, and two daughters, Collins and Ellison. In her spare time, she enjoys spending time with her family, boating, running, and biking. A native of Sioux City, IA, Jessica is excited to join the Sioux Falls community and the Great Plains Dental team!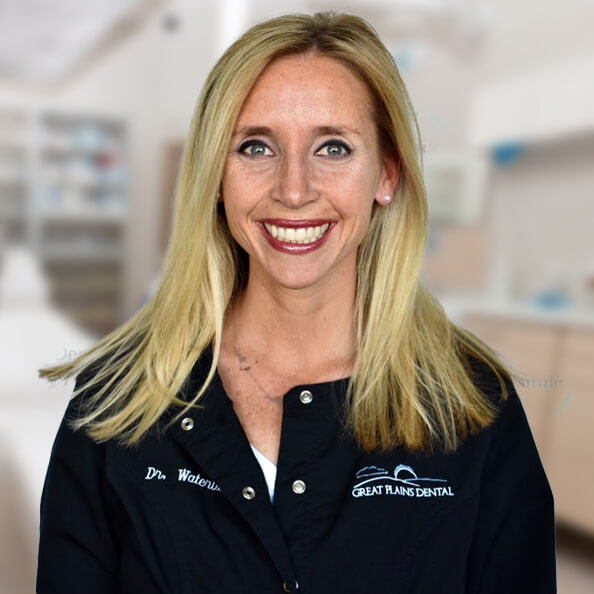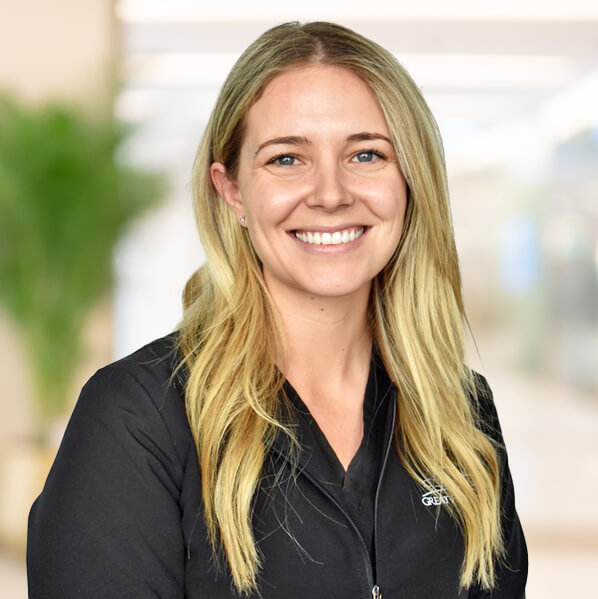 Dr. Rebecca Ryan was born in Rapid City, SD and moved east river to Sioux Falls, SD at a young age. She graduated from Washington High School and went on to attend South Dakota State University where she received a B.S. in Biology with a minor in Chemistry. Dr. Ryan graduated with her Doctorate of Dental Surgery from the University of Colorado.
Dr. Ryan enjoys working with state-of-the-art dental technology and is excited to continually grow in the world of digital dentistry. She offers a comprehensive approach to care which includes a custom treatment plan tailored to each patient's needs. She likes working with patients of all ages, especially children, and hopes to make the dental office a positive experience for everyone.
Food and music are some of Dr. Ryan's favorite things. She enjoys spending her summers on the water and her winters in the mountains. Dr. Ryan is excited to be a part of Great Plains Dental and give back to the community that helped shape her.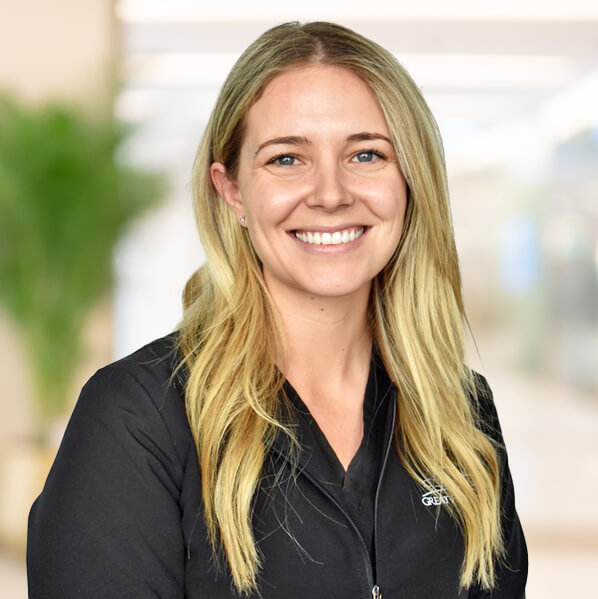 Mackenzie, Dr Schultz, and all other staff is so great! My favorite dentist to go to for myself and for my child who loves the dentist because of how they are with him and how mindful of children they can be. They do a free kids dental day once a year which is so great for the community because I know plenty of people who lack children dental they can trust and afford.
Tabitha B.
I have been a patient of Dr. Schultz for many years. I can't say enough about the wonderful care & expertise I have had. Recently I was reminded of this once again, when I presented a complicated case & he handled it with skill & utmost care. Thank you, Dr. Schultz!
Brenda M.
Allie and Heather P are both amazing hygienists, they both prioritize pt comfort and make me feel at ease when coming in. I never am worried or nervous coming to Great Plains because I know i will be given the best care possible. Dr. Ryan, Allie and heather are the reason I will keep coming back and always chose Great Plains for my dental care.
Emily
After a lifetime of bad dental experiences, I finally found one I absolutely love. Dr. Nelson at Great Plains Dental in Sioux Falls is so kind, personable, funny, competent, compassionate - just a great young man. I called with a question after a tooth extraction and asked to speak to his assistant and got to speak to him directly. I'm a nurse, and, well, that's just about unheard of in my world. I have nothing but great things to say about the rest of the staff there as well. Everyone I've encountered has been friendly, polite, and helpful. It's well worth the 2-1/2 hour drive to get my dental care there.
Jeannie F.
I've seen Dr Nelsen a few times now and cannot say enough good things. He and everyone else on staff is incredibly nice, thorough, and efficient. I havent had to have anything retouched or redone, it's WAY less uncomfortable than any other dentist ive seen and they're truly so kind. My 2 year old daughter has also been seen here and she also had a great appointment. Would recommend them to absolutely anyone.
Mary K.
I can't say enough about the staff and Dr. Nelsen. Been going there for years and it's definitely the greatest dental office my family and I have been to! They are fun, polite, respectful, talkative, service is awesome, discuss options for dental treatment if needed. They are my dental family!
Astrid R.
Excellent atmosphere, Dr. Nelson was not only great with me but also my one year old daughter. The ladies at the front desk are always incredibly polite. Also the finance people will take as much time as you need to ensure you know all your payment options for your personal plan of action. I would 100% recommend anyone who is uncomfortable going to the dentist give Great Plains a chance!
Kathy K.